A comprehensive list of the Dali prints available is listed in our paintings section, simply select your preferred artwork and more information will be displayed on where you can find a print version for your own home. Art.com are our recommended art retailer. Purchase links are included alongside each painting in their own pages, and from there you can purchase your own reproductions. You will find a host of options available, particularly for some of the more popular Dali prints, including different framing options, multiple inlay cards as well as stretched canvases and posters. Salvador Dali was a famous Spanish artist from the Cubism, Dada and Surrealism art movements and this is a website which brings to you his best oil paintings as prints to buy online, plus covers his career and works in great detail.
See below for a gallery of Dali prints. Salvador Dali was respected in the fields of painting, drawing, photography, sculpture and writing and his works are suited to framed art prints, giclees, unframed posters and stretched canvases with some customers also choosing tapestries from the selection seen below. The imagination and quality of production was what set Dali apart with a constant desire for new ideas and techniques across a long and distinguished career. You can enjoy some of his best prints below. Salvador Dali was a personality as much as an artist and craved attention and publicity, creating many different ways in which to achieve the limelight for his career through some eccentric behaviour throughout his life.
Many warmed to this artisticly-licensed public performances but others felt it was sad that attention was sometimes drawn away from the classic art for which they wanted his to be remembered for always. In reality, one very much comes with the other and many artists require a certain type of makeup to produce highly imaginative and inspiring paintings and that often involves an unusual personality. Currently the most popular Dali paintings that people choose as print reproductions for their own pleasure include The Persistence of Memory, Face of Mae West Which May Be Used as an Apartment, Soft Construction with Boiled Beans (Premonition of Civil War), Swans Reflecting Elephants, Ballerina in a Death's Head, Dream Caused by the Flight of a Bee Around a Pomegranate a Second Before Awakening, The Temptation of St. Anthony, Galatea of the Spheres and Crucifixion (Corpus Hypercubus).
The Surrealist movement, for which Dali is best known, was a imaginative art movement which was taught to encourage artists in revolution and challenging normality, which Dali was happy to embrace. Indeed, he even went as far as falling out with his father after defending his Surrealist behaviour following the death of his mother. Most artists that follow a bold path tend to be appreciated most in later years after their work has become more accepted, but Dali was already very respected during his own lifetime. Dali was commonly challenged over his impulsive and irratic behaviour by other influences within the Surrealist movement which had begun to become more and more involved in left-wing politics whilst Dali attempted to remain relatively neutral at that point and just concentrate entirely on his art.
After a long career Salvador Dali had produced around 1,500 oil paintings stretching back several generations before his death in 1989, aged 84. Other notable contributions included illustrations for books, lithographs, designs for theatre sets and costumes, drawings, sculptures, and plenty of other projects, including an animated cartoon for Disney. Dali's eccentric personality was demonstrated best by his choice of clothing and general appearance, with a trademark moustache being particularly fondly remembered. His extravagant, flamboyant outfits were also popular as they helped to get across his creative genius and confidence. Dali was someone who always sought attention by being different in seemingly as many ways as possible.
Dali often used politics to further gain exposure and interest in his life, sometimes using it just for a shock factor from bold comments which weren't always entirely of his thinking. Matching his eccentric behaviour was Dali's interest in various radical influences in the political world such as anarchism, communism and Franco's authoritarian style. Dali is known to have been most influenced by Renaissance artists from Italy but brought with that a much more modern surrealist style that took advantage of his classical painting skills and advanced innovative mind. Dali stands alongside the likes of Da Vinci and Michelangelo as someone who took in as many options as possible within his career, not content just to stick with oil painting on canvas, and just to see himself as an artist rather than just a painter.
A mark of Dali's success was how he created interest and respect within his lifetime which other contemporary artists have sometimes struggled to achieve. The exhibition in New York of Dalí's works in the 1930s was one of the starts to his global success and the public immediately warmed to titles such as The Persistence of Memory. The Surrealist movement, of which Dali was a critical member, decided to remove Salvador Dali from it after a disagreement over his fundamental political opinions which remained very important to other members of the Surrealist collection of artists. Whilst radical, Dali refused to put himself just in one political group and this did not sit well with the more committed other artists around him. Spanish art is one of the key influences on the progression of European art since the middle ages, producing significant painters from each and every major art movement. Salvador Dali is just one of these, with Joan Miro also being a great contemporary artist.
Spain represents itself well behind only Italy as the most important country in the history of European art, with British artists and German artists starring alongside the Dutch Golden age as equally important. The detailed work involved in most of Dali's critically acclaimed oil paintings make them ideal choices as large framed giclee prints which ensures that his original colour balances are met and that the reproductions are large enough to include all the quality of detail that the artist originally put in. For those who appreciate the clear influence and brilliance of Dali, another obvious artist worth studying would be Pablo Picasso who is one of the rare people that could match the career of Dali with their own in terms of importance and innovation. The two probably rank as the most important artists of the 20th century, but the list of others who also impacted art development with their own work is considerable and almost endless.
The global success and popularity of the artist has ensured that his works are consistently available on display all over the world, aided by the fact that he produced so many different works throughout his career. The Dali museum is the best place to start, along with exhibitions that carry on all across the world, often targeting specific topics such as sketches or paintings from set periods or styles. We expect to add some specific content on the Dali museum and other Dali exhibitions as this website expands over time. If there are other Dali-related topics that interest you, perhaps suggest them to us and we'll try to add those in too. Salvador Dali went to study art at the Academy of Fine Arts in Madrid which helped to give him the academic skills that he was to use in conjunction with his own innovation to create the masterpieces which lit up his career. At this stage in his life it was Cubism and Futurism which were of greatest interest to Dali who was later to expand his interests towards others.
Dali was later to become involved with the Surrealists who warmed to the artist's talent for attracting attention to some ludicrous behaviour which would always be against the norm. It was at this stage that Dali would also experiment with erotic subjects as well as combine reality with fantasy in most works. The Lugubrious Game (1929), The Persistence of Memory (1931) and Surrealist Objects, Gauges of Instantaneous Memory (1932) are examples of this. After coming into problems within the art world for his support of Franco, Dali decided to move over to the United States. Dali continued to switch between traditional and modern styles for most of his career, always looking to embrace new methods and mediums to add to his string of varied successes. This website concentrates on those work which remain available to buy online as print reproductions, be the original an oil painting, photo of a sculpture, or other.
Further Products for Salvador Dali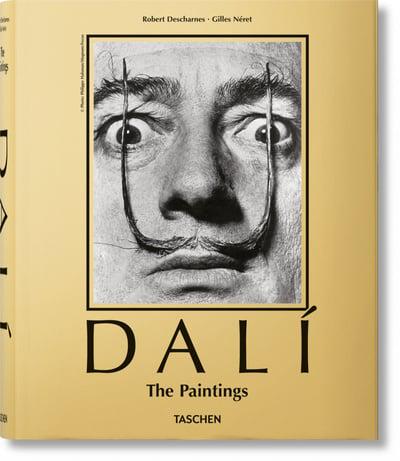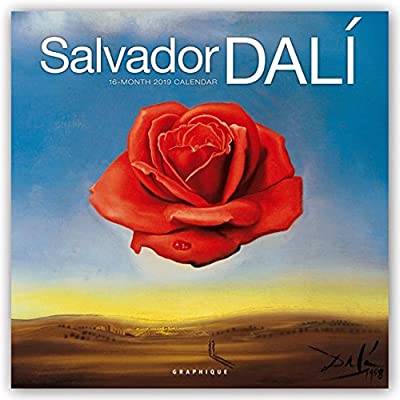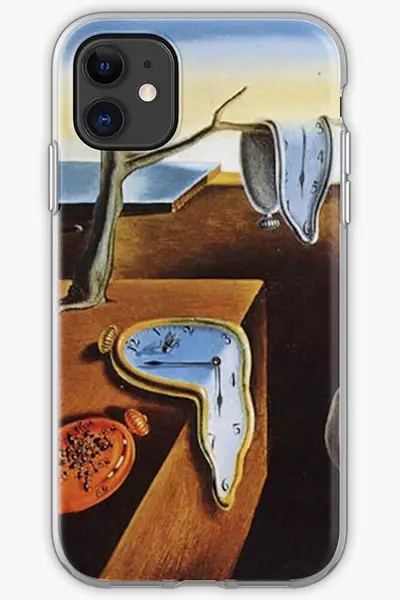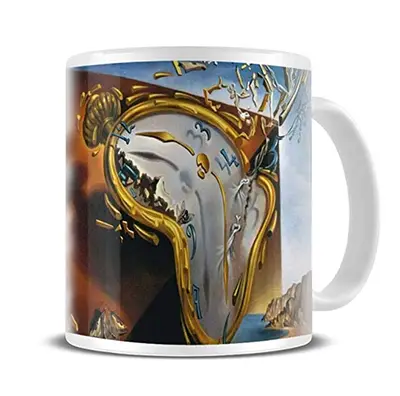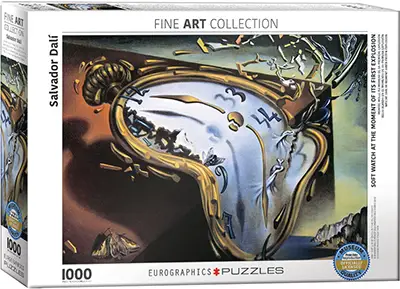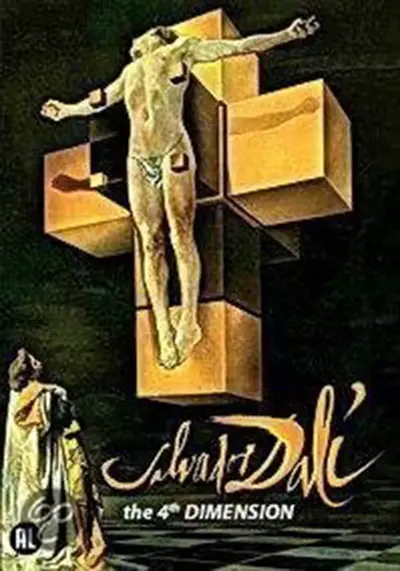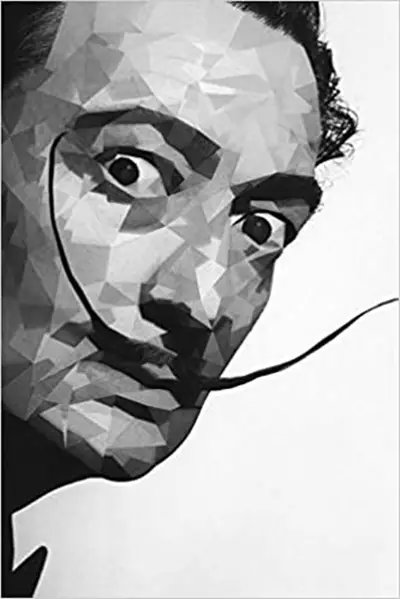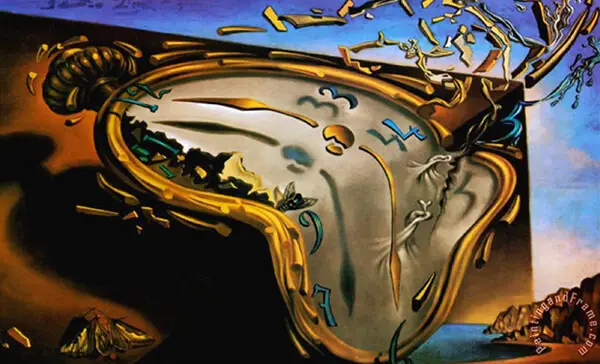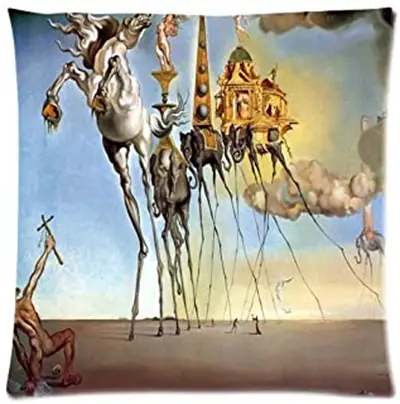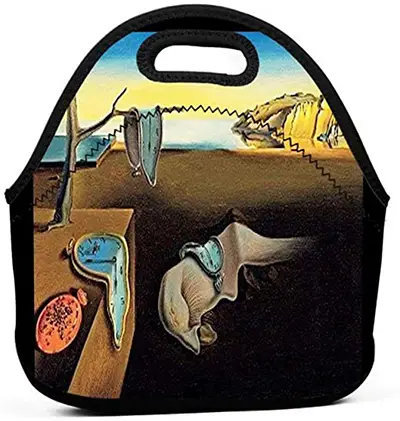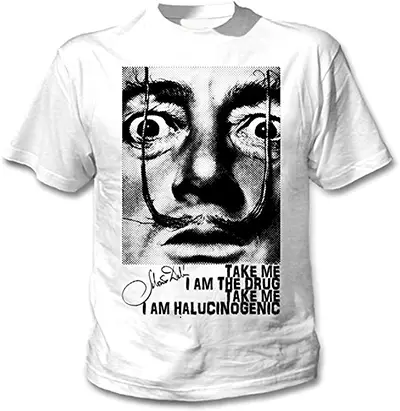 List of Famous Salvador Dali Prints
The artist's career was long to the extreme and his high levels of output were consistent throughout even as he experimented with painting, drawing, photography, sculpture and writing. To summarise his works into a best selection in a hard job because of this, but see below for a inclusive list for some of his better known works, many of which you might choose as art prints for your own homes.
Person at the Window
Swans Reflecting Elephants
Female Figure with Head of Flowers
The Ship
The Metamorphosis of Narcissus
Burning Giraffes in Brown
Landscape with Butterflies
Spain
The Elephants
Musical Tempest
Dream Caused by the Flight of a Bee around a Pomegranate
Galatea of the Spheres
The City of the Drawers
The Temptation of St. Anthony
Reminescence Archeologique de l'Angelus de Millet
Idylle Atomique
Hallucinogenic Toreador
Soft Watch at the Moment of First Explosion
Cinquenta Tigre Real
Disintegration of the Persistence of Memory
Broken Bridge and the Dream
Mirage
Je ne m'en Souviens Pas
Bacchanale Dali print
Woman with a Head of Roses
Rose Meditative
Ghost of Vermeer
Odalisque
Raphaelesque Head Exploded
Geopoliticus Child
Dream
Apparition of a Face and Fruit Dish on a Beach
Woman with a Head of Roses
Apparition of the Face of Aphrodite
Landscape With Butterflies
Enigma Without End
Sacrament of the Last Supper
Young Virgin Auto-Sodomized by Her Own Chastity
Enchanted Beach with Three Fluid Graces
Reflections of Elephants
Maelstrom
Three Young Surrealist Women Holding in their Arms the Skins of an Orchestra
Sleep
Ma Femme Nue Regardant son Porpe Corps
Freud's Perverse Polymorph
Bulgarian Child Eating a Rat
Les Trois Sphinx de Bikini
Flower Head
Burning Giraffe
Soft Construction with Boiled Beans
Muchacha de Espalda
Idylle Atomique
Disintegration of the Persistence of Memory
Patient Lovers
L'Elephante Giraffe
Apparition of a Face and Fruit Dish on a Beach
Naissance d'Une Divinite
Discovery of America by Christopher Columbus Dali print
Apparition of My Cousin Carolinetta on the Beach at Rosas
Lincoln in Dalivision
Santiago El Grande
Untitled
Piaceri Illuminati
Face of Mae West
Reverie
Thousand Dreams
Burning Giraffes in Brown
Birth of a God
Le Grand Masturbateur
Lit et Deux Tables de Nuit
Nature Morte Vivente
Ocelot Felis Pardalis
Atavistic Vestiges after the Rain
Woman with a Head of Roses
Odalisque III
Eggs on a Plate
Evocation of the Apparition of Lenin
Odalisque I
Study for The Odalisk
Madonna of Port Lligat
Sommeil